---
Landon's Book Club
Read along with Landon's Book Club and other fellow readers. Get in-depth book summaries and discussions about the authors. Find out what book Landon is currently reading.
Latest Read:
Murder as a Fine Art grabbed my attention like no other. It dates back to 19th century London, the largest city on the globe at that point in time, and explores a horrific set of murders. While the book is fiction, much of what happens is history.
The plot and characters held my attention for the duration of the read. I did feel that the end could have come together in a more fluid — less tie-up-the-loose-ends-quickly fashion — than it did. The most disappointing thing for me is — unlike the first three-quarters of the book — the conclusion lacked the element of realism. Too much coincidence is an appropriate summation. However, due to the sheer amount of research, intrigue, utter enthrallment, and superb imagery, I find it difficult to knock even one star from my rating.
Landon's Rating: * * * * *

Overview: Thomas De Quincey, infamous for his memoir Confessions of an English Opium-Eater, is the major suspect in a series of ferocious mass murders identical to ones that terrorized London forty-three years earlier.
The blueprint for the killings seems to be De Quincey's essay "On Murder Considered as One of the Fine Arts." Desperate to clear his name but crippled by opium addiction, De Quincey is aided by his devoted daughter Emily and a pair of determined Scotland Yard detectives.
In Murder as a Fine Art, David Morrell plucks De Quincey, Victorian London, and the Ratcliffe Highway murders from history. Fogbound streets become a battleground between a literary star and a brilliant murderer, whose lives are linked by secrets long buried but never forgotten.
_________________________________________________________
Terminus is unlike anything I have read before. One could categorize it as religious fiction, fantasy, sci-fi, suspense, thriller, or just maybe…real-life. Could our realm, and the spirit realm, be intertwined? This is fiction, so keep that in mind. Don't get upset about viewpoints bases on non-biblical beliefs. Again, it is fiction and is written to entertain and enlighten, not to convince or sway. It is a fantastic story of love, hope, freewill and the ever-present battle between the holy and the fallen. It is a little out there in places, but that's why I love it!
Landon's Rating: * * * * *
Overview: HOW FAR MUST AN ANGEL FALL TO FIND HIS DESTINY?
Having witnessed one too many senseless deaths, Nikolai, a disillusioned Reaper 3rd Class, resigns his commission with the Angel Forces after a tedious century of gathering souls. Immediately, another division recruits him with the promise of a more rewarding career, and issues his initial assignments: To bring down a few very dangerous threats to the human race. In the process, Nikolai falls in love with one of his targets–Hope Matheson, a woman who will lead thousands astray. Caught between conflicting agendas, Nikolai chooses to "fall" from his celestial state and become mortal in order to circumvent angel law and be with her. But for angels and humans alike, things are not always as they appear. Still a target, the threat against Hope's life intensifies. Now, in order to save her, Nikolai must rally the last remnants of his failing supernatural abilities to prevent her assassination, as well as the destruction of an entire city by a nuclear terrorist strike. But his time and power are running out… Terminus is a perspective-altering saga that delves into ageless themes of redemption, destiny, and the eternal power of love.
_____________________________________________________________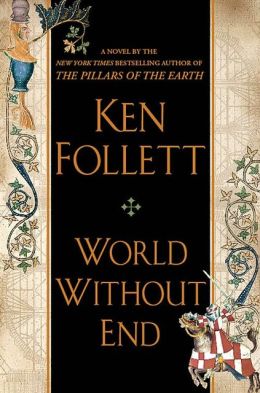 While not quite the intrigue of the prequel, The Pillars of the Earth, it definitely held my attention. As with many Ken Follett novels, the story within is not for the queasy, nor those with a short attention span. Having said that, it always amazes me of how he can lead the reader through a massive story, and do so in a clear and uncluttered fashion. If you want to disappear from the modern era of technology and convenience, there is no better place to start. I don't give it five stars because I never found myself craving to get back to the story.
Landon's Rating: * * * *

Overview: World Without End takes place in the same town of Kingsbridge, two centuries after the townspeople finished building the exquisite Gothic cathedral that was at the heart of The Pillars of the Earth. The cathedral and the priory are again at the center of a web of love and hate, greed and pride, ambition and revenge, but this sequel stands on its own. This time the men and women of an extraordinary cast of characters find themselves at a crossroad of new ideas— about medicine, commerce, architecture, and justice. In a world where proponents of the old ways fiercely battle those with progressive minds, the intrigue and tension quickly reach a boiling point against the devastating backdrop of the greatest natural disaster ever to strike the human race—the Black Death.
Three years in the writing, and nearly eighteen years since its predecessor, World Without End breathes new life into the epic historical novel and once again shows that Ken Follett is a masterful author writing at the top of his craft.
____________________________________________________________
Pursuit of Honor is the tenth book in the Mitch Rapp series by my favorite Author, Vince Flynn. The thing I love most about this series is that each book is a stand-alone. The reader follows a character, Mitch Rapp, not a continuous story. Another thing I love about Vince's books is–and this is even though I don't rate any of them above four stars–the sheer pleasure I get out of reading them. I would say that he appeals to a mostly male audience, although I have met several women who love the series. If you're in the mood for a solid political thriller, a little ass-kicking, and a behind the scenes look at the men and women who protect us, I can't recommend Pursuit of Honor enough; or any of the other books in the Mitch Rapp series. Fast, easy reads–each and every one.
Landon's Rating: * * * *
Overview: When Washington, D.C.'s National Counterterrorism Center is struck by a series of devastating explosions, the results are catastrophic—185 killed, including public officials and CIA employees. Such an act of extreme violence calls for extreme measures—and elite counterterrorism operative Mitch Rapp, joining forces with trusted team member Mike Nash, finds himself in the frustrating position of having to illustrate the realities of national security to government officials up in arms over the agents who rushed in to save countless American lives. Meanwhile, with three al Qaeda terrorists still at large and Nash traumatized by the horrors he witnessed during the attack, Rapp must help his friend while threading his way through the naysayers on Capitol Hill—and silently, swiftly, do what he must for the sake of his country and the pursuit of honor.
____________________________________________________________
I have finished The Pillars of the Earth, and I am fascinated at how such a large story kept me engrossed, hour after hour, day after day. This book is long, and not for the fainthearted, but if you are looking for an escape, possibly even to a different time and place, I see no room for disappointment. It's absolutely marvelous, and makes me grateful to live in this day and age.
Landon's Rating: * * * * *
Overview: Everything readers expect from Follett is here: intrigue, fast-paced action, and passionate romance. But what makes The Pillars of the Earth extraordinary is the time—the twelfth century; the place—feudal England; and the subject—the building of a glorious cathedral. Follett has re-created the crude, flamboyant England of the Middle Ages in every detail. The vast forests, the walled towns, the castles, and the monasteries become a familiar landscape. Against this richly imagined and intricately interwoven backdrop, filled with the ravages of war and the rhythms of daily life, the master storyteller draws the reader irresistibly into the intertwined lives of his characters—into their dreams, their labors, and their loves: Tom, the master builder; Aliena, the ravishingly beautiful noblewoman; Philip, the prior of Kingsbridge; Jack, the artist in stone; and Ellen, the woman of the forest who casts a terrifying curse. From humble stonemason to imperious monarch, each character is brought vividly to life.
Follett weaves a story of betrayal, revenge, and love, which begins with the public hanging of an innocent man and ends with the humiliation of a king. At once a sensuous and endearing love story and an epic that shines with the fierce spirit of a passionate age, The Pillars of the Earth is without a doubt Ken Follett's masterpiece.
___________________________________________________________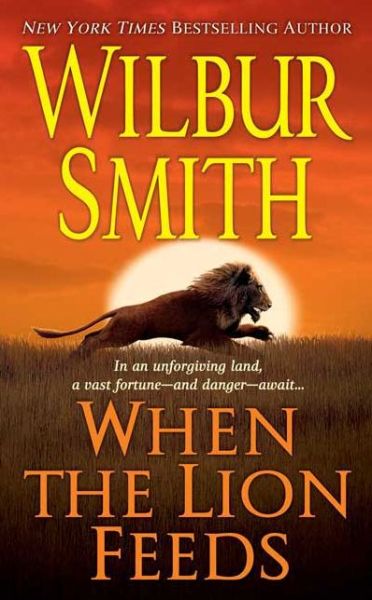 When the Lion Feeds by Wilbur Smith. I have finished this book. It's a fantastic story of life and the roller coaster of happiness and sorrow that comes with it. While I do not recommend it to readers who want a short, fast pace, When the Lion Feeds is absolutely one of my new favorite books. Wilbur Smith inserts fictional characters into a historical era, capturing the charm and tragedy that only time can deliver.
Landon's Rating: * * * * *
Overview: He began life at his twin brother's side, soon running wild on his father's ranch on the edge of Africa. But violence, desire, and fate sent Sean Courtney into exile—where he would fight and love his way to extraordinary success and heartbreaking failure…
In a place called The Ridge of White Waters, Sean made a life-long friendship, mined a fortune of gold, and met his own demons. Then an act of cunning betrayal struck—and ignited a new adventure to a new frontier.
From facing the murderous charge of a towering bull elephant to watching men die unspeakable deaths, Sean fought new enemies, forged new allies—and dreamed of establishing a family on a farm of his own. But the young man who had lived by his courage, sweat, and blood was about to discover that the past still had its claws in him…
---